You want technology to make your life easier, not more complicated. Let Renaissance Geek help you.
Learn more

Website and Email Hosting
Renaissance Geek is proud of our web and email hosting services. We take as great care of your resources as we do of our own. Relax and enjoy excellent technical support and great value.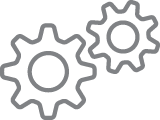 Tech Support
Renaissance Geek can install, configure and troubleshoot your computer's operating system, software and hardware. Whether you want to understand how it all works, or get it fixed while you're out, we take the stress out of IT management.

Wired and Wireless Networks
Renaissance Geek understands the need for affordable, secure and stable network services. We make it easy and safe for you, your staff, and your clients to access your resources from across the office or across the world. We set up, upgrade or troubleshoot the hardware and software involved in connecting your assets to each other and to the Internet.
Rena was absolutely fantastic and went above and beyond in her service for my website. I ended up needing it done much sooner than I had anticipated, as I was set for a tv appearance with my business and really wanted to try to get my business website live before it aired. She was able to take a concept and some graphic work, and turned it into a stylish and informative website in just a few short days! I was able to get the domain name I wanted, and can now edit and play around with the website as much as I like. I would definitely recommend her to anyone who needs their website built! Julie C.
Rena has definitely been my "go-to girl" for networking. I am tech savvy, but networking is definitely not my forte. She was quick to trouble-shoot, whether it be via phone or racing 300kms to my business to keep me online and all of my systems grouped correctly. Many times we worked together through the night till the wee hours (due to work needing to be done after the 8am-6pm business clock) – just to make sure that by office opening – I was ready to roll. I highly recommend! L.B.
Rena was fantastic at fixing my computer issues. She was professional and able to diagnose and competently fix the problems. She was able to clearly explain things in terms I can understand as a non tech person. She is an exceptional person to have in your corner for computer issues both big and small. Jackie R.
I asked Rena to see if she could salvage both my fairly old Desktop and malfunctioning laptop or to advise me on what to buy to replace them if they weren't salvageable.  To my surprise and relief she was able to save both, and at the same time, the result was a dramatic improvement in the speed of my Desktop.  Her rates were very reasonable and when it does come time to invest in newer equipment I will be asking her to help me pick what is right for me and to set it all up. Mark S.
It was a great pleasure working with Rena rebuilding my site.  After giving her my vision, and listening to her great ideas, Rena has completed the rebuilding of my website.  
My website now is much more user friendly, and it is clear, concise and everything I could ask for.  Rena also added some great tools that I was unaware of which will make sales and communications much easier.
Thank you Rena for a job well done.  
John C.